The science behind Revival Einkorn
Einkorn, officially known as Triticum monococcum, is Mother Nature's first wheat. A grain of immense historical significance, einkorn was first cultivated over 14,000 years ago with archaeological evidence suggesting it was consumed long before that. Einkorn was a staple in early human's diets and provided a reliable food source when prey was scarce or edible flora lie dormant.
Even though einkorn was first, it was abandoned as farmers sought higher and higher yields—eclipsed by hybridized dependents, crossbreeds of wild and cultivated species. Einkorn belongs to the group of "ancient" or "dressed" wheats protected by a hull that requires more arduous and expensive processing.  With lower per-acre yields than modern wheats, einkorn has been relegated to artisanal "heritage" operations. However, in light of today's dietary and environmental challenges, Revival Einkorn recognized a need to reassess einkorn's commercial viability.
Celiac disease and generalized gluten intolerance are on the rise (according to recent estimates 30% of Americans avoid gluten). Einkorn is suitable for people with non-celiac gluten sensitivity, irritable bowel syndrome, and other digestive system inflammatory pathologies, einkorn's low antigen levels (ATIs) and single 'AA' pair of chromosomes make it far easier to digest than other wheats. There's evidence that consumption of einkorn may actually protect individuals from developing celiac disease.
Einkorn boasts a higher concentration of phytochemical, micronutrients, lipids and proteins compared with other wheats. Environmentally, einkorn is highly resistant to disease and parasites. Its deep root system enables the plant to tolerate arid conditions and poor soils. Einkorn can be cultivated in marginal areas where other species can't survive. This inherent drought tolerance and pest tolerance make it perfectly suited to the organic, biodynamic, and sustainable farming methods demanded by a warming planet. 
The grain that started it all
About 14,000 Mesopotamian hunter-gatherers made an incredible leap. They invented farming. For the very first time, we humans had a predictable food source. And, the first wheat they grew? Einkorn. Those first farmers stumbled onto something big: sustainable agriculture. Naturally drought-tolerant and resistant to pests, einkorn nourished them without degrading the soil. Pure as nature intended, nutritionally dense and easy-to-digest—einkorn sparked the age of innovation, expansion, and exploration.

At Revival Einkorn we are dedicated to turning back the clock and reviving a love of this ancient grain. We're empowered by a love of tradition, family, and delicious food. And, we believe that by returning to the wisdom of the ancients we can address some of our modern world's problems, one meal at a time.

The de-evolution of wheat
Einkorn, was a healthy, complete food source high in protein, fiber, vitamins, and minerals in a time when gluten wasn't a problem. This nutritional powerhouse fueled early human growth, providing a reliable and predictable food source that was as delicious as it was nurturing. Over time perception changed because humans thought they were smarter than Mother Nature. Hybridizing wheat to fit their ever changing "needs" (easier bread making, higher harvest yields, etc.) gluten levels increased, nutrition diminished, and a weaker plant requiring fertilizers, pesticides, and constant irrigation evolved. Fortunately, we can go back in time by eating nature's true wealth just as our ancestors did. 
Einkorn vs other wheat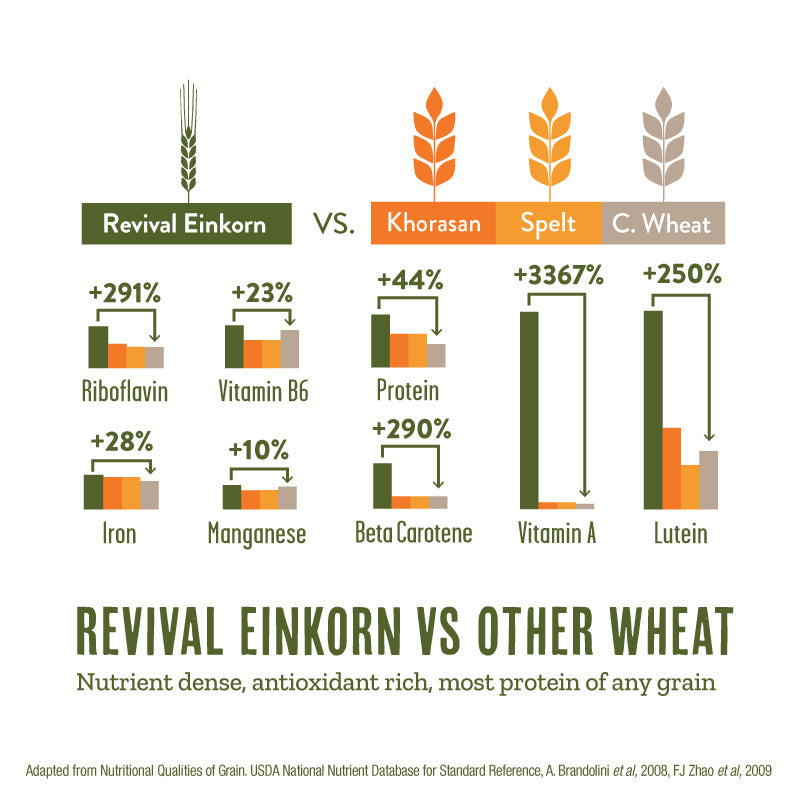 Before gluten was a problem
Einkorn's gluten is simple and truly unique, containing only the single 'AA' pair of chromosomes making it far easier to digest than other wheats. In addition, it's high fiber and low starch content aide in gut health and support healthy inflammation balance. Revival Einkorn is ideal for people with gluten sensitivity or those who just like to avoid the bloated feeling associated with modern wheat products. Although not recommended for those already diagnosed with celiac disease, recent studies show that einkorn contains very few inflammatory properties.
After years of research, testing, and consultation with dietitians, food scientists, and consumers—we established a consistent and meaningful way to label our products highlighting einkorn's 'AA' good gluten. Our Certified Gluten AA seal clearly calls to attention what makes Revival Einkorn's gluten uniquely suited to human digestion and health. If you would like to learn more, please visit the complete Einkorn White Paper.
Einkorn: an alternative to modern wheat
Though einkorn is earth's first wheat and the first domesticated wheat, it hasn't received a great deal of scientific attention until recently. This white paper; 'Einkorn: An Alternative to Modern Wheat' by Dr. Susana Domínguez Rovira and Albert Bruno Llach (pictured above), details einkorn's history, nutrition, digestibility, and place in the human diet. Inside, you'll learn about the many unique qualities that make einkorn the ancient grain the world needs today.