Gluten & grain free?
Revival Einkorn (Triticum monococcum) is a complete food and earth's first wheat. Pure as nature intended, nutritionally dense, and easy-to-digest with its own unique (and healthy) gluten, Revival Einkorn just may make you reconsider the gluten and grain-free diet ultimatum and let you 'love wheat again'.

New discoveries are finding that early humans harvested and ate einkorn over 14,000 years ago, at a time when we previously understood them to be hunters and gatherers living primarily on animal protein and wild seasonal flora. Fortunately, einkorn provided a high-quality food source when herds migrated and/or indigenous plants went dormant. Einkorn blessed these early inhabitants with a more balanced, complete form of nutrition that helped spark the age of innovation, farming and exploration.

Including einkorn as part of your regular routine can do the same thing, literally changing your body's chemistry with its prebiotics, digestibility and its support of a healthy inflammation balance. High levels of antioxidant lutein support vision and brain function, while naturally occurring vitamins and minerals provide essential nutrition. Throw-in its high fiber and low starch content, highly digestible gluten (Gluten AA) and great taste and you can see why we encourage modern humans to 'love wheat again' - just as our ancestors did - when gluten, allergens, inflammation and obesity wasn't a problem.
Revival Einkorn is...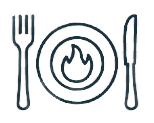 Powerful nutrition
Highly digestible
Good for your gut
Good for your vision

Good for your brain
Einkorn is the perfect (high-quality) carb to balance your diet. Einkorn provides high levels of 100% vegan protein, dietary fiber and naturally occuring vitamins, minerals and antioxidants while creating good gut health with its unique gluten and insoluble dietary fiber.
With einkorn, you can enjoy wheat guilt-free – avoiding the bad glutens, inflammation, allergy and digestion issues associated with today's modern hybridized and non-GMO wheat products. Make pasta hangovers, gluten gut bombs, and bloating a thing of the past by making Revival Einkorn products part of your daily routine.
Revival Einkorn is a great way to fuel high-peformance athletics no matter who you are or what you do. Einkorn has high quality carbohydrates (low-starch/high-fiber) and is loaded with protein (einkorn contains the most protein of any grain) an ideal combination for powering the human body in any athletic endeavor. Revival Einkorn's Artisan Pastas are 'center of the plate' complete nutrition without the bloat or hangover. Boasting a nutty, toasty wheat taste that can be enjoyed with or without sauce, einkorn is protein and good carb-loading together from one easy-to-eat, delicious, 100% vegan source – Revival Einkorn Organic Pastas.
Grains have been in our diets long before what most Paleo defenders believe. The Paleo diet seeks to mimic the Paleolithic Era (3.3 million years ago until 11,700 years ago) way of eating by avoiding processed food. Proponents of the diet consume vegetables, fruits, nuts, roots and meat and exclude dairy products, sugar, legumes, processed oils, salt, alcohol, coffee, and grains. But, in actuality, the original human diet consisted of wild cereals, including einkorn (monococcum spieces) dating back more than 30,000 years ago.
Adherents to the Paleo diet reason that the human body is genetically mismatched to the modern diet that has emerged with farming practices — an idea known as the discordance hypothesis. Humans have been consuming Einkorn, the original wheat, since the Paleolithic Era. It was used to make bread at least 15,000 years ago and grass seeds, notably Sorghum in Africa, were consumed at least 10,500 years ago.
The confusion comes when "founder crops" are considered the same as crops we find today. Being the first, einkorn is the only non-hybridized species of wheat and is the only diploid variety. It has little in common with today's hybridized, hexaploid wheat varieties. 
With every addition of chromosomes pairs, the molecules of wheat become more complex, the starch more harmful, less nutrient dense overall, and adds more immunogenic peptides. Combined with modern milling and baking practices, today's hybridized wheat products present a very difficult to digest product that is far from the nourishing wheat Mother Nature intended. Revival Einkorn treasures the original, rich simplicity.
Revival Einkorn is a pure diploid wheat with anti-inflammatory properties. It is richer in minerals, vitamins, and protein than modern wheats, and has a protein structure with much less immunogenic peptides known to affect people with Non-Celiac Gluten Sensitivity as well as those with Celiac. Because of it's never hybridized, original nature, it also has a significantly different starch structure presenting a lower Glycemic Index. 
When considering the tenants of a Paleo diet, non-hybridized Revival Einkorn (T. monococcum), fits in perfectly. Not all carbs are created equal and a healthy diet should include a variety of whole foods from all groups. The vast majority of people suffering from Non Celiac Gluten Sensitivity can eat Revival Einkorn, as well as people with different inflammatory issues, such as irritable bowel syndrome. 
Please note, this information is not medical advice and you should always consult with a health care professional prior to making any major dietary changes. 
CELIAC ADVISORY: If you've been formally diagnosed with Celiac Disease by a doctor, we are required to recommend you avoid all wheat, even though research indicates that modern wheat is an important factor in Celiac development. 
The Keto diet has catapulted onto the health and wellness scene in recent years because of its blood sugar control and weight loss benefits. The focus of Keto is to consume foods high in fat, moderate protein, and very few carbs (averaging less than 50 carbs per day), allowing for small quantities of low carb cereals, like rice. When done correctly, this flips the body's main source of energy from glucose to fat, putting the metabolism into Ketosis.
While most adherents boast the weight loss advantages, the restrictive diet also has shown benefits for patients suffering from epilepsy, cancer, type 2 diabetes, polycystic ovary syndrome, and more, in the short-term. Long-term Keto benefits are unstudied and lack clarity. Regardless, if Keto is something you're considering or already practicing, you know the basic objective is to get more calories from fat than from carbohydrates—making the selection of quality carb composition crucial. Not all carbs are created equal. Look for whole grains from true organic, ancient grains. Avoid modern, hybridized wheat and corn varieties.
Revival Einkorn, earth's first wheat dates back more than 15,000 years, has a lower carb quantity (58-71/100g) than today's common wheat (63-75/100g) and is rich in minerals, vitamins, protein, and fiber. Here's a little science…starch is made of two polymers: amylose (small sized) and amylopectin (large sized). Starches with more amylose than amylopectin have a lower Glycemic Index (GI) than those with a higher ratio of amylopectin. So, selecting carbs with a higher percentage of amylose is also wise and within the Keto diet.
Revival Einkorn features higher amylose percentages and is more easily hydrolyzed. This means it allows for slower digestion, lowering glucose and insulin levels after meals and helping to maintain satiety longer. A high quality carb addition to a Keto diet, Revival Einkorn averages 65 carbs/100g. So, someone following Keto could eat around 75 grams of grain (a little more for pasta, since it's 12% water) and adhere to the desired balance.
Approaches to Keto are varied and differ depending on lifestyle, health, focus, and goals. Not suitable for people with type 1 diabetes, hypothyroidism, eating disorders, or children and teens, Keto is not for everyone. 
In any case, before getting into a Keto diet, we highly recommend visiting a health care professional. Please note, this information is not medical advice and you should always consult with a health care professional prior to making any major dietary changes.